Japanese Working
WORK'IN JAPAN
28.02.2019
Today I would like to write about an event which may be helpful for those who are interested in working in Japan.An event of small discussion about WORKING IN JAPAN was held on 19th February. I would like to share the topics discussed, so that it will help you when you start thinking to work in Japan!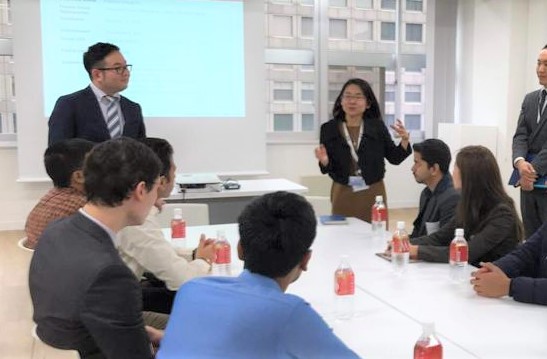 Five Asian undergraduate students who won an"Ideathon" competition  were awarded a trip to Japan. It was just 5 days however  it was a rare chance to see Japanese companies and to get to know many Japanese/foreign professionals. It seems to made them start to think of Japan as a career destination.  As part of their programme, they had a chance to discuss with foreign professionals who are working at a Japanese company.
Here I would like to share what they have learned. I hope the knowledge will help you.
The five undergraduate students looked so relaxed. It was their first time to visit Japan and up to that time they were surrounded by only Japanese representatives. Therefore the meeting started with smile and relaxed as they met the foreign professionals. The foreign young professionals who attended were from Thailand, Korea and England. All of them are started working in Japan within these two years. Two of them has no prior experience in Japan.
The discussion started with following question;
◆What was difference between Japanese and foreign company?
-Japanese company is more comfortable in terms of organisation. For example, training for freshman, manuals and care from senior workers.
◆How much Japanese language skill is needed?
-It is recommended to get N1* score. Asian students ought to think N2 is enough but, it is not. Once you have N1 score, it definitely make you to be outstanding!
-But Japanese is not needed in technology roles!
*N1:Highest score of Japanese-Language Proficiency Test   https://www.jlpt.jp/e/about/levelsummary.html
◆How much Japanese business manner is important. Should I know it beforehand?
-Not really. We came here Japan without studying any Japanese business manner. It is more recommended to study Japanese language.
◆What is a "hot" industry in Japan?
-IT, AI, IoT are hot all over the world. And also some tourism industry which is targeting foreign tourists are also hot especially for foreigners. Additionally international sales, marketing, and finance are in high demand.
◆Any advice for us?
Japan is a surprisingly clean country isn't? We are all enjoying Japan now. We were supposed to stay here for 1 or 2 years but extended because of this comfortableness. Punctuality is quite opposite from my home town in South Asia but I managed to get used to it. So you can!
They discussed more and  exchanged their contacts. If you have more question for them, please let me know. Afh Secretariat is ready to answer at any time.