【Interview】Ms. Kha Yay Soe
WORK'IN JAPAN
15.11.2022
Yoshinoya Co., Ltd. has welcomed a new member who attended the company's job seminar held in Yezin Agricultural University in Nay Pyi Taw, Myanmar, which is sponsored by afh in 2016
【Profile】
YOSHINOYA CO., LTD.   Assistant Store Manager
Ms. Kha Yay Soe
■ Graduated from Yezin Agricultural University.
■ Joined since July 2022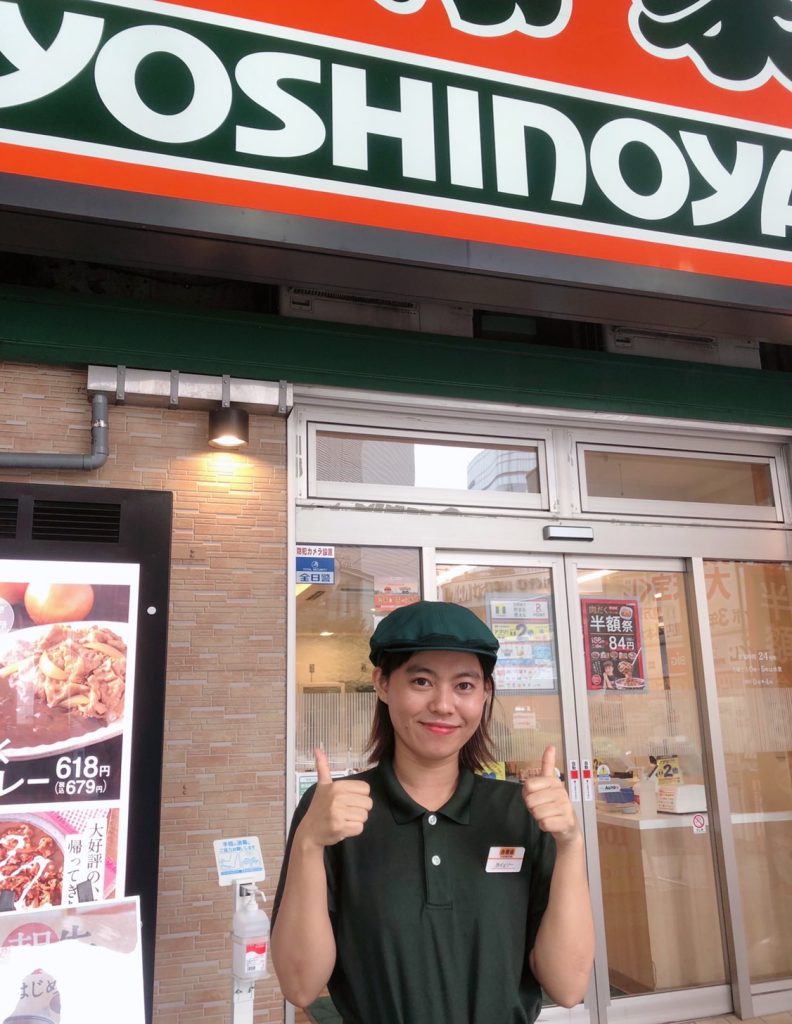 1.Why did you apply YOSHINOYA?
In 2016, I knew Yoshinoya for the first time after attended the company endowed course at Yezin Agricultural University, then I checked more information about the company on Google. I was impacted by that Yoshinoya had expanded their restaurant and their signature beef bowl to many countries in Asia and United States. It made me more interested in Yoshinoya. I applied for the job because I really wanted to learn about working at a good restaurant company, and aim to master restaurant management. I wish I could help Yoshinoya to expand the business and their restaurant, that is clean, safe and secure, to Myanmar in the future.
2.What kind of preparation did you do before joining the company?
After the endowed course, I graduated from university and immediately started studying Japanese. I studied JLPT N5 and N4 with a Myanmar teacher, after that I studied by myself until passed JLPT N3 before joining the company. Even now, I am studying at the N2 level for 2 hours every day after coming back from work. In addition, I studied the market needs in advance by researching the characteristics of Japanese restaurants and the business contents of various companies on the Internet. I also heard from friends in Japan about the situations of food-service market during the spread of COVID-19.
3.Do you feel the difference between working in Japan and Myanmar?
Yes, I do. And I like that Japanese people are work with utmost effort.
4.How do you spend your days off?
I still have a lot to learn, so I often stay in my room, learning things that will help improve my working skill. Sometimes I go shopping to take a break, or call my family to update them on my progress. When I have time, I take a small tent to a quiet place with nice view, listen to music and read a book to relax.
5.Please give a message to those who want to work in Japan.
During the training period, I learned the basics of store manager at the Yurakucho store, which has the highest sales in Japan. I was nervous at first, but store manager and other staffs kindly talked to me, that make me feel good to go to work every day. Currently, as an assistant manager, I am practicing cooking and store management with the aim of becoming a store manager. Naturally, learning Japanese is a difficulty when working in Japan. It took me three years, and I couldn't come to Japan because of the coronavirus. However, it was my dream to work at Yoshinoya in Japan, so I was able to gather a lot of information while waiting and use that time to study Japanese. What kind of dream do you want to make it come true? If you check well, whether the job description matches you or not, before entry a company, I think that you can enjoy everything at your own responsibility.