【Interview】Ms. Sitthipong Taravilai
WORK'IN JAPAN
15.11.2022
Yoshinoya Co., Ltd. has welcomed a new member who attended the company's job seminar held in Kasetsart University in Bangkok, Thailand, which is sponsored by afh in 2018. They got over the pandemic, and she safely came to Japan then entry the company from August 2022.
【Profile】
YOSHINOYA CO., LTD.  Assistant Store Manager 
Ms. Sitthipong Taravilai
■ Graduated from Thai-Nichi Institute of Technology, Major Business Administration in 2017.
■ Joined since August 2022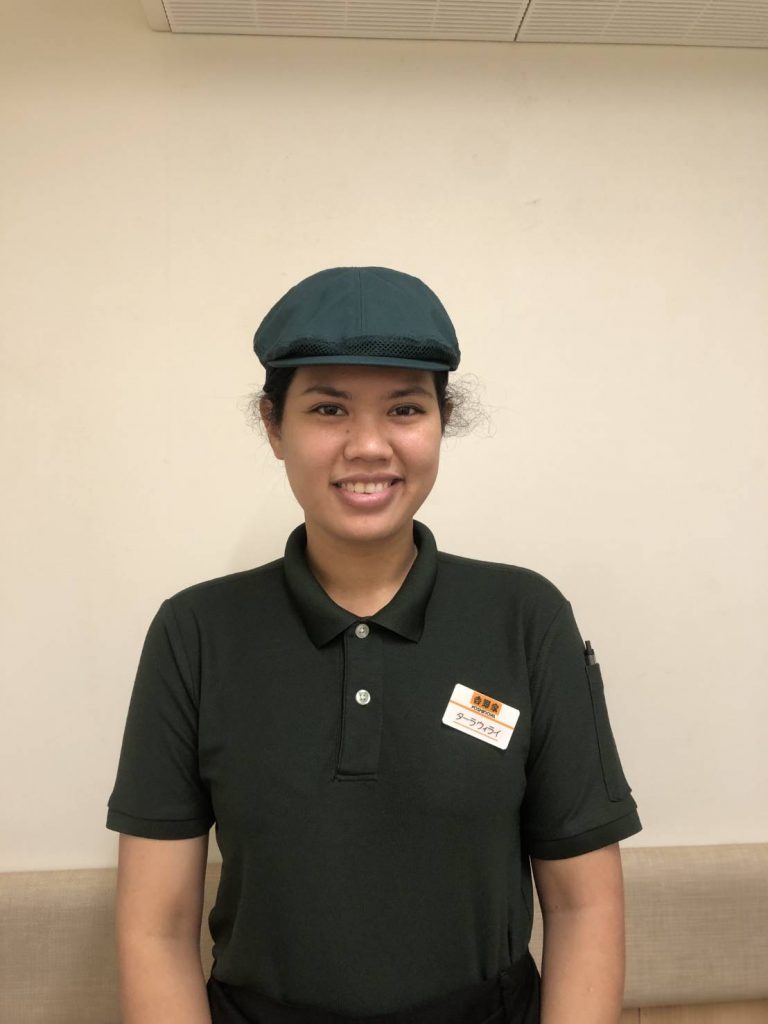 1.Why did you apply YOSHINOYA?
I graduated from a university in Thailand with a Business Japanese degree (BJ), so it was my dream to work in Japan where I can use my knowledge in my work. Under the project funded by the Ministry of Agriculture, Forestry and Fisheries of Japan, a job seminar was held at Kasetsart University in 2018 and I participated in Yoshinoya company information session. I applied for the job with Yoshinoya because I felt empathy toward the Company Policy and the Job Description is match up with my experience and my knowledge area.
2.What are you in charge at YOSHINOYA now?
Now I am training at training center and also at Yoshinoya stores to master all the job such as customer service, beef bowl preparing and etc. with the aim of becoming an assistant store manager. The training will take 4 months.
3.Have you realized any difference between working in Japan and Thailand?
When I was working in Thailand, it was a Japanese company, so it has not changed much, however, I am keenly aware of the importance of communicating with people I work with when I come to Japan.
4.What do you like the most about your job now?
I love working in customer service, that I can impress my customers with my service to them. In order to be able to speak Japanese correctly, I go to other stores to observe the staffs and learn more essential phrases when they service the customers. I enjoy practice speaking Japanese and I have learned a lot from the advanced polite form. This is a really good experience for me.
5.Have you had any troubles working in Japan?
I had a little trouble with understanding the difficult Japanese and the fast speed speaking when working at stores, but when I do not understand something, I try to ask right away and take notes.
6.Please let us know your enthusiasm for your job.
I meet a lot of people at training center and stores, so I try to stay positive by starting my day with a smile in front of the mirror every morning, and enjoy working in every day.
7.Please give your message to who wants to work in Japan
There are many things to learn every day so sometimes it is difficult, but I feel that has helped expand my mind and my thinking capability a lot. Staying in Tokyo also can enjoy the diverse of nationality and culture than I thought before move to Japan. Let's come and work together!