たこわさ Takowasa
JAPANESE FOODS
29.08.2017
Takowasa, also known as Tako Wasabi in English, is a popular side dish in Japanese izakaya. It is made of raw octopus ("tako") heavily flavored with Japanese horseradish ("wasabi"). It was said that Takowasa originated from a punishment game in Azuma Foods company back in 1991, where the employees found the taste of this "punishment dish" being surprisingly pleasant. Afterwards, the company started to develop the product for commercialization, which soon became popular in izakayas all across Japan.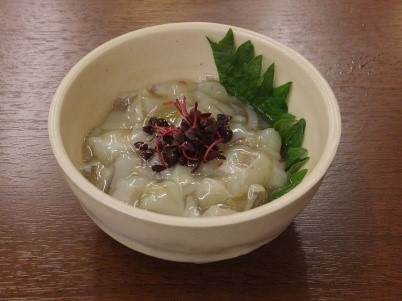 Takowasa is a dish that you are going to either love it or hate it. When I first saw takowasa, it just appeared as a lump of goopy gray mysterious materials sitting inside a small bowl. I can never eat any raw foods before, but when I first bite into takowasa, surprisingly, it wasn't bad at all (probably also because I wasn't told that it was raw…). The slimy, chewy texture of octopus goes well with the wasabi heat, and it is definitely a good match for wines.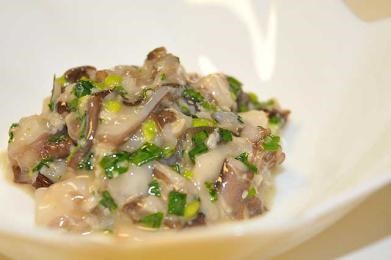 Besides its additive taste, takowasa is also praised for its low calorie, high nutritional value, and its protective effect for liver and stomach against ethanol. Nowadays, frozen takowasa products are readily available in supermarkets. In addition, good news to those who cannot eat raw foods, products using boiled octopus (instead of raw ones) have been developed as well. In some countries, innovative approach in serving takowasa have appeared. For example, seaweed has been added into the takowasa dish, so that you can enjoy the food like a nachos snack.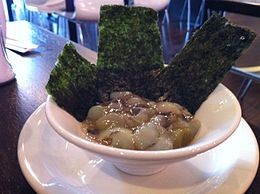 To make takowasa:
clean surface of raw octopus with salt, wash away slime under running water
cut octopus into small pieces (about 1-2 cm)
mix octopus pieces well with wasabi, additional ingredients such as sake, soy sauce, mirin, salt, sugar and plum can also be added for extra flavoring
takowasa can be eaten directly after mixing, or stored in fridge for a few hours before consumption
Do try this special dish when you have a chance! As what my Japanese friend has said, "you can only claim yourself being a true Japanese after eating takowasa".