YOSHINOYA CO.,LTD./Food restaurant business/Store Manager/JAPAN
Search Jobs!
04.07.2018
Company details for YOSHINOYA CO.,LTD.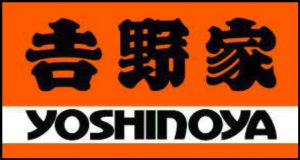 HP: YOSHINOYA CO.,LTD. (Recruitment information) https://www.yoshinoya.com/saiyou/index.html
HP: YOSHINOYA HOLDINGS CO.,LTD.
Brief Description of Domestic (Japan)
https://www.yoshinoya-holdings.com/english/introduction/yoshinoya.html
Brief Description of International (other country)
https://www.yoshinoya-holdings.com/english/introduction/overseas_yoshinoya.html
Established :March 1, 2014
Capital : 10 million
Number of employees : 745(National staff 3)
Work Location : Japan Tokyo
Company Business and Selling point
【Business category: Food restaurant business】
The company has a number of top brands such as "Yoshinoya" of beef bowl, "Hanamaru Udon", the founder of self-type udon chain, "ARCMEAL", the largest steak restaurant chain in Japan, and "Kyotaru", the various sushi chain. Each brand acquires high trust from customers, ensuring stable earnings.
【PR Point】
"Reliability of top brands" and "accumulated overseas store management know-how" support the Group's earnings base.
Main item: Beef Bowl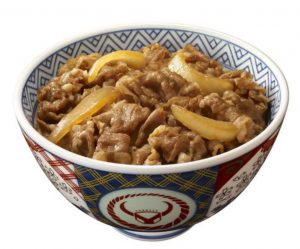 Working Condition / JOB DETAIL
Company name:YOSHINOYA CO., LTD.    (株)吉野家
Address:18Floor 36-2, Nihonbashi Hakozakicho, Chuo-Ku, Tokyo, Japan
Working hours:Three-shift system.[8:00~17:00,14:00~23:00, 23:00~8:00]
Reformed working time once a month.
Actual 8 hours per day, 2040 hours per year
Over Time:4h/M
Holiday:Annual holiday 110 days.
Annual Leave(Paid holiday):After 6 months  10 days (Maximum 20 days)
Benefits & Welfares:Health Insurance,Health Check,Dormitory,Other(Transportation expenses, etc.)
Company housing:None
Employment Type:Regular employee
Job Name:Sales
Position:Store Manager
Number:14
Department: Sales:department
Contract Period:Five Years
Renew Contract:Yes
Job Description:
Store management.
– Deliver superior guest services and ensure absolute customer satisfaction.
– Completes store operational requirements by scheduling and assigning employees, following up on work results.
– Coordinate the entire store operation, including front and back-of-house to achieve the planned sales goal.
– Maintain high standards of quality control such as cooking, hygiene, and safety.
Assigned Destination:
Yoshinoya store in Tokyo area and environs. The store, working place, will be decided during 3 months training at training center.
Language Level
Japanese:Business level
English:Communication level
Conditions:JLPT N3 or higher
Educational Background:Bachelor's Degree
Salary:204,229 yen/month*Bachelor's degree (22 years old)
Bonus:Twice a year(July / December) *
Adopted  After training:3 months training at training center. After that, will be assigned as assistant manager at the near store in Japan
Training Location:Tokyo, Saitama, Chiba, Kanagawa
Contact:sutharat@ysn.yoshinoya.com
*The content and working conditions are subject to change without notice.
Interview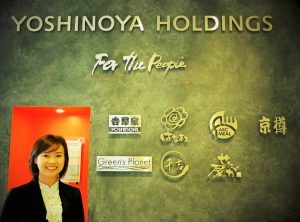 "I​ was impressed by the philosophy of YOSHINOYA,"For the people".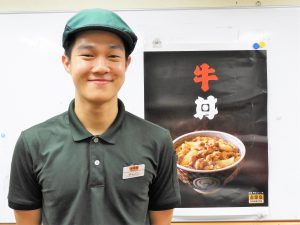 "Just step out of your comfortable zone and challenge yourself!"