Educational Travel in JAPAN for foreigners
WORK'IN JAPAN
01.11.2017
Have you heard of 'Educational Travel'? Students from Harvard Business School have visits to Fukushima annually, an area in Japan that was greatly damaged by Great East Japan Earthquake. This educational travel program aims to provide participants with a similar enriched learning experience through direct participation and comprehensive cultural exchange.
Foreigners who work in a Japanese company often say that Japanese company has a unique way of working. Sometimes, it is said that this unique way of working is stressful.
In fact, Japanese companies looks at the foreigners' ability to adapt to their unique working style. For those who understand the unique way of Japanese working style has a higher chance of getting hired as it shows the willingness to actively participate after joining the company. So, for those who wish to seek employment in Japanese companies, it would make you stand out during the recruitment process if you are able to explain your understanding of the unique Japanese working style.
Now, what exactly is the value of this unique working style in Japanese companies? In Japan, there is a saying of "learn skills by observation". Under the tutelage of an accomplished individual, one other would also be able to acquire it as well. This can be explained through the word "kata" or "form", which is commonly heard in Japanese martial arts and traditional crafts. In Japanese martial arts, the word "kata" are pre-arranged techniques used to illustrate the basic principles of the martial art. It can be seen in many of its different forms and throwing techniques. In Japanese traditional crafts, there is a certain "kata" or "style" whereby the craft of the same quality can be made regardless of the individual. There is no manual for "kata". This can be considered as a form of "mentorship".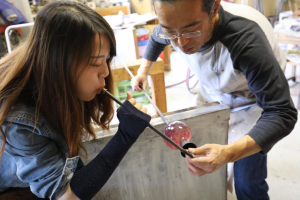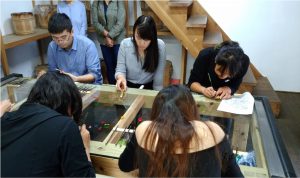 The best catalyst to understand this way of thinking is by learning it in regions where traditional culture still exist while interacting with craftsmen, agriculturist, and Japanese traditional dancers. It is difficult to find traditional Japanese culture in big cities such as Tokyo and Osaka. Fortunately, Tohoku region such as Miyagi Prefecture and Iwate Prefecture, maintained a lot of its traditional culture which is perfect for learning Japanese companies' way of working.
This Educational Travel for foreigners from PASONA is a Japanese government commissioned project for those who wishes to learn about Japanese culture. Participants of this educational travel program can experience making their own traditional crafts, learn Japanese traditional dance, experience Japanese agriculture and dairy farming in Miyagi Prefecture and Iwate Prefecture. Through this experience, one can also learn about Japanese style of working. This educational travel is highly recommended to those who is planning to work in Japan.
http://visittohoku.com/en/educational-travel/