How to proceed with job hunting in Japan②
WORK'IN JAPAN
02.08.2021
What kind of talent are Japanese companies looking for?
The number of companies that want to hire foreign talent is increasing, but what kind of personnel are Japanese companies looking for?
■ Communication skills    : Can you work while communicating with people around you?   
■ Identity                       : Are you willing to work?
■ Cooperativeness           : Can we work together and work as a team?
■ Spirit of challenge      : Do you want to try any kind of job?
■ Integrity                      : Can you work hard?
★ For the International students・・・
■ Language (Japanese) skills: Can you communicate with Japanese bosses and employees? 
■ Enthusiasm: Do you have a strong feeling that, you want to work in that company!
Japanese salary system
When we ask foreign students, "How do you choose a company?" many of them answer, "salary".
In fact, the salary of a new graduate is almost the same whether the company is big or small in Japan.
About 200,000 yen a month.
⇒ Unlike foreign companies, there are no major differences between jobs.
  The longer you stay in the company, the more you go up.
  ( Influence of seniority system and lifetime employment system )
⇒Compared to foreign companies, the start is low.
⇒Some companies have "Salary Table" according to age ・・・
 ( OO yen to OO yen for 30 years old, OO yen to OO yen for 40 years old )
Why hire international students?
~ Reasons why companies hire foreign students ~
■ Want to secure excellent human resources regardless of nationality.
■ Response to globalization
( Business requiring language skills, interaction with overseas business partners, etc. )
■ Revitalizing the company, including the impact on Japanese employees
■ Foreign students are more motivated than Japanese employees.
Many of you who will start job hunting, may not know, how to proceed the job hunting yet.How to proceed with job hunting
How to proceed with job hunting
Many of you who will start job hunting, may not know, how to proceed the job hunting yet.
There is some procedure like Entry Sheet Writing, Group Discussion, Written Test, Comprehensive work, Recruit Suit, Group Interview.
This is a summary of points such as what is seen at each step and what should be noted.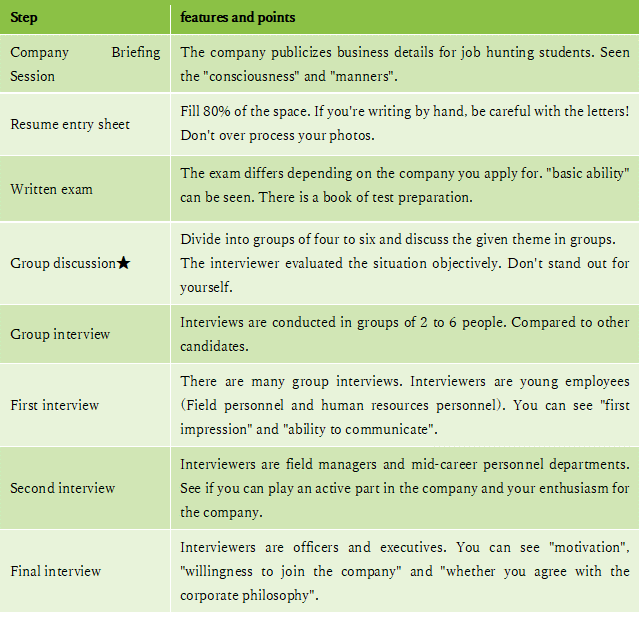 ★ Group discussions are often held to select large companies.
Let's do a self-analysis first. Self-analysis is the theme of the next seminar.
Next, do industry analysis to find industries you are interested in.
Then company research. Let's study about the company you want to apply for.
Finally do the application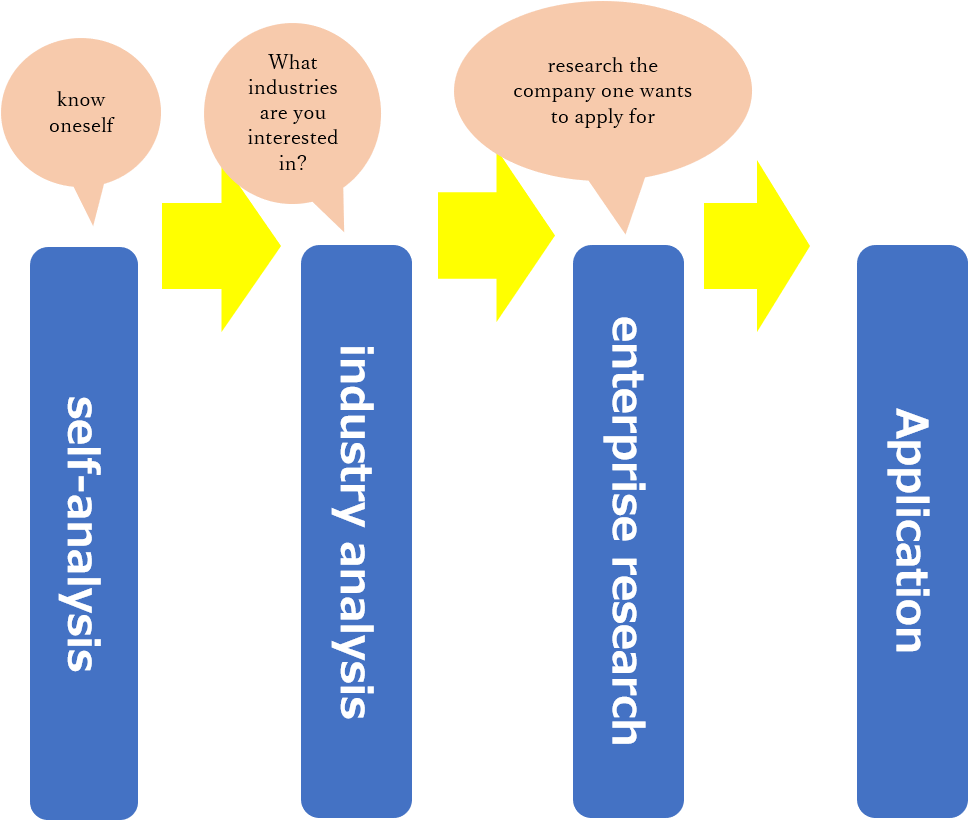 If you are looking for a job now, please act as quickly as possible.
First, let's register at the job hunting site.
Participate in briefings and joint company briefings (often online this year).