Biking in Japan
WORK'IN JAPAN
23.07.2022
Like many countries, Japan has an avid cycling community, casual grocery shoppers, commuters, or intense biking fiends. It can also be a way to explore your neighborhood, get from point A to B, or sightsee new areas. 
As you may expect, the rules, etiquette, and penalties regarding biking in Japan may differ compared to your home country. 
Here are just a few you should be aware of. 
Register your bicycle
Whether you bought a brand new bike or got it second-hand from a friend, make sure to register your bike. The staff should help you with the paperwork if you bought it at a store. If you purchased it second-hand, go to your local police station to register it, along with the necessary documents proving that the previous owner had sold/given it to you. It should cost less than 1,000 yen. 
While bike theft is not common in Japan, there are unfortunate incidents where non-Japanese bikers were stopped by police officers and asked for their bike registration forms along with their residence card. Save yourself the hassle by registering your bicycle. 
Buy bicycle insurance
Once you register your bicycle, buy bicycle insurance. The Tokyo Metropolitan government requires all bicycle riders, including children, to enroll in insurance as of April 2020. Bicycle insurance is about 3,000 yen/month and will cover most damages and injuries to yourself and others in the case of an accident. 
Accidents between bikers and pedestrians are frequent in Japan, so having insurance will give you that extra padding of security. 
Ride in the direction of traffic
In Japan, cars drive on the left-hand side. Similarly, you should ride your bike on the left-hand side. Driving against traffic is also dangerous and not worth the risk. Failure to do so may result in 30 days in prison or a 20,000 yen fine. 
Keep your ears and hands free at all times. 
Don't wear headphones/earphones or use your phone while biking. Similarly, do not ride while holding an umbrella when it's raining. While there is no penalty, you might be warned if caught by the police.
Ride on designated paths
Some roads have designated bike paths, either marked on the pedestrian path or the car roads. Be cautious when riding on the sidewalk if there are no set paths. 
Don't drink and ride
Getting caught drunk driving a bicycle may result in up to five years in prison or a one million yen fine. 
Turn on your light and use the bell at night
Make sure your light and bell are functional when riding at nighttime. You must turn on your light and, if necessary, alert people by ringing your bell. If you don't turn on your light at night, you may be fined up to 50,000 yen. 
Helmet wearing
Japan does not enforce helmet wearing, although it is strongly encouraged. Children under 13 years old are especially encouraged to wear helmets. 
No bicycles on public transit
In general, bicycles are not allowed on trains and buses. Foldable bikes are permitted, but be mindful of other riders and avoid peak hours. 
Park in designated bike parking
To avoid your bike getting towed or receiving a ticket, make sure to park your bike at designated parking spots, and don't chain your bike on the street. While you may be able to find free parking, there are lots of covered parking options that are not expensive, especially near train stations. It may cost 100-200 yen/hour, and some offer monthly options for commuters.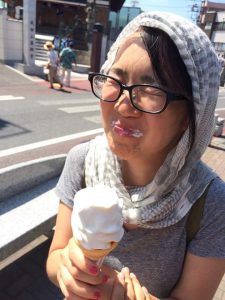 Kayoko Hirata Paku
Kayoko Hirata Paku is a food writer, translator, and bagel person. Growing up in Japan and the U.S., she currently resides in Tokyo with her peanut butter addicted husband, a very hungry baby, and many half-dead plants.
Read previous articles by the writer