Japanese Amberjack/Yellowtail
JAPANESE FOODS
05.12.2022
The Japanese amberjack, also known as yellowtail, is a popular rich and fatty fish in Japanese cuisine.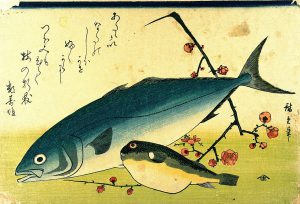 It is a migratory fish belonging to the
Carangidae
family of the
Perciformes
group and grows to over 1 meter in length and about 8 kg in weight. It inhabits the coastal sea area of the Japanese archipelago and the East China Sea. The flesh looks white, but it's closer to tuna due to the high presence of blood pigment protein, hemoglobin, muscle pigment protein, and myoglobin in the muscle.
In Japanese cuisine, it is eaten raw as sashimi and nigiri sushi, cooked in a teriyaki sauce, in clear soups and hot pot dishes. A popular amberjack dish eaten during the wintertime is
buri daikon
, amberjack filets, and daikon simmered in a sweet-savory glaze. 
In the Japanese language, amberjack goes by many names; if you count the regional names, there are over 100! It's a type of
shusse-uo
(出世魚),
"promotional
fish," which has different names according to their stages of growth. Shusse-uo is considered auspicious in Japanese culture and is often cooked in celebratory dishes as it is associated with growth and advancement.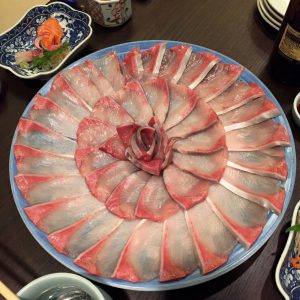 Here are a few of the Japanese names for yellowtail you may encounter: 
Wakashi ワカシ Wakana ワカナ Wakanago ワカナゴ
Inada イナダ
Yellowtail 20-30 cm in length. 
Hamachi ハマチ
Yellowtail 30-40 cm in length. It can also refer to farmed yellowtail. 
Warasa ワラサ
Yellowtail 30-60 cm in length. 
Mejiro メジロ
Yellowtail 60-80 cm in length. 
Buri ブリ
Mature yellowtail over 70-80 cm in length. 
The Chinese character for buri 鰤 differs from the original Chinese name. In Chinese, the character represents a different fish. There are many examples of Chinese characters not matching the fish in the Chinese and Japanese languages due to mistranslation and misunderstanding.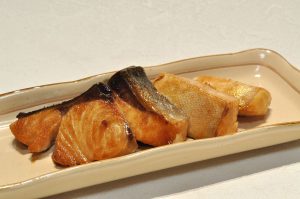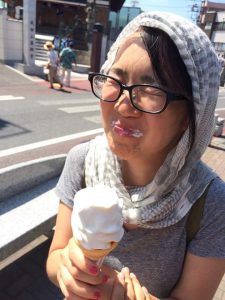 Kayoko Hirata Paku
Kayoko Hirata Paku is a food writer, translator, and bagel person. Growing up in Japan and the U.S., she currently resides in Tokyo with her peanut butter addicted husband, a very hungry baby, and many half-dead plants.
Read previous articles by the writer