Business Attire in Japan
WORK'IN JAPAN
07.02.2022
The business attire in Japan may seem different compared to your home country. There are unwritten rules and unfamiliar terms that may seem confusing. 
You may already know that the phrase kuki wo yomu 空気を読む
("reading
the air") is essential  in Japanese society, especially in the business environment. Wearing inappropriate attire not only may raise eyebrows among your colleagues and clients but may be interpreted as unprofessional. So, don't feel shy to ask around and copy what your fellow teammates are wearing until you figure it out. 
Let's go over some of these business attire terms. 
Recruit Suits リクルートスーツ
"Recruit suits" refer to the black suits worn by college students during job hunting season. It consists of a black suit jacket and slacks or a knee length skirt. This is accompanied by a white button down shirt. Men will wear a dark colored tie, and women can choose between slacks or a skirt. 
There's very little variety in recruiting suits as the idea is to dress uniformly. Depending on the workplace culture, most young employees continue wearing the recruit suit for a few months after joining the company. 
Business Suits ビジネススーツ
Business suits refer to all kinds of suits, ranging from fabric, season, pattern, and occasion worn in a business environment. Once you
"graduate"
from recruit suites, you may be able to wear less formal and more personality driven suits. Depending on how conservative your workplace is, you may be able to explore pinstripes, gray or navy colored suits, colorful shirts, ties, and socks! 
Recently, many traditional companies have loosened up on their business attire rules and allow for more casual clothing. But you may still be required to wear suits for business meetings, so do check beforehand. 
Office Casual オフィスカジュアル
As the name implies, office casual refers to a more casual attire than rigid business suits. This includes blouses, cardigans, sweaters, tailored jackets, dresses, chino pants, and more colorful clothing. 
But note that showing skin is taboo, so make sure to cover your shoulders and cleavage, and keep skirts no shorter than knee length. Form fitting clothing is also frowned upon. Short sleeves are fine, but bring a cardigan or jacket with you. 
Cool Biz クールビズ
The Cool Biz campaign took off in 2005 as the Japanese government pushed the initiative to dress more casually during the summer to reduce electricity consumption. Summer in Japan is hot and humid, so instead of sweating throughout the day or sitting in an ice-cold AC blasting office, employees are encouraged to dress in cool biz attire. This campaign has been adopted by both the public and private sector and takes place from May 1st to September 30th. 
So what is cool biz attire? This includes ditching the jacket and tie for polo shirts, short sleeved button down shirts, kariyushi shirts
(the
Okinawan version of the Hawaiian Aloha shirts), and looser fitting clothing. 
Where to buy business attire? 
There are many places where you can buy business attire. Specialty stores in business attire include AOKI, The Suits Company, SUIT SELECT, Orihica, and more. You can find clothing at casual clothing stores such as Uniqlo, Muji, GU, and Shimamura as well.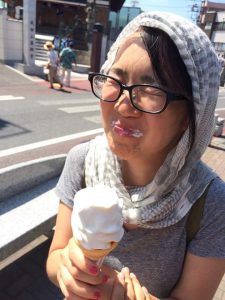 Kayoko Hirata Paku
Kayoko Hirata Paku is a food writer, translator, and bagel person. Growing up in Japan and the U.S., she currently resides in Tokyo with her peanut butter addicted husband, a very hungry baby, and many half-dead plants.
Read previous articles by the writer