Preparation for Job-Hunt in Japan
WORK'IN JAPAN
30.04.2020
Preparation for Job-Hunt in Japan
–Q & A for foreign students–
Cultural difference, honorific expression, information shortage…all these elements greatly challenge those foreign students working in Japan. Especially for those foreign postgraduate students in Japan. Within two short years, they are expected to work on multiple difficult tasks, such as school work, job seeking, graduation thesis. Therefore, how to effectively arrange the studying and working time become very crucial. Today, we are going to talk about the time arrangement of a foreign postgraduate student in Japan and also offer some suggestions from our predecessors.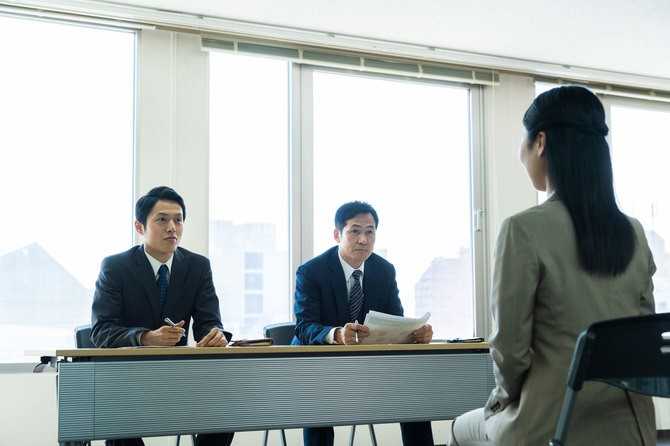 You can tell from the picture below that job seeking is an organized war. Beginning from the first year of summer, the postgraduates start to participate in many corporate internship activities to conduct a deep self-analysis and industry research. In the sophomore year, the company would host job fairs through various platforms through which those students can submit their "Entry Sheet" to attend the following written test and interview. If all things go well, they would be lucky to get a guaranteed offer by June in sophomore year.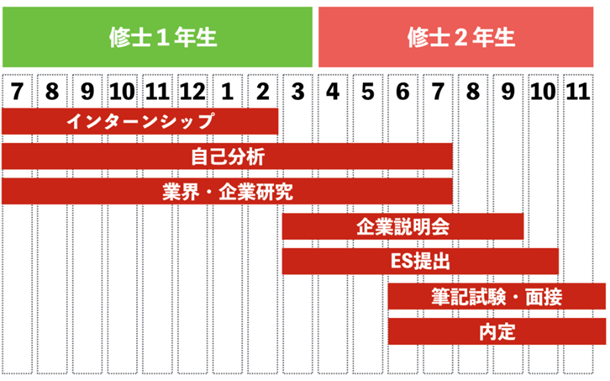 First of all, I want to share some effective techniques in job seeking.
You have to understand the job-seeking process in Japan. Many students missed the best time to apply for internships because they don't know when to start job seeking, not to mention have plenty of time to prepare for it.
Japanese enterprises would carry out various types of job fairs annually(company visit/experience sharing/company introduction). Many enterprises choose to hold it in college. There are also many different activities. Before attending those job fairs, you can read some books about Japanese industry analysis in order to determine which industry you would like to aim for. While some students would blindly attend unrelated job fairs and waste their time during this process.
After determining your interest, you may begin to collect the relative information about those targeted enterprises and pay attention to their recruitment information in advance. Please cherish every interview experience, learn to summarize your interview technique and think about the essence of the interviewer's questions.
Learn to use the special APP for employment, communicate with seniors of the enterprise, and receive professional guidance. For example, the international student section of the日経テレコン, 株式会社帝国データバンクand NAVI, and the employment website(アカリクWEB) for professional graduate student and engineers. These job sites have first-hand information from the interview site, and you can analyze what kind of answers will be loved by the enterprise.
The enterprise in Japan focuses on the internship experience. The internship period in Japan is generally short, usually, one day, which mainly tests the team cooperation ability in a short period of time. It is recommended that you take more internships from various industry companies, which is the best way to learn about various industries and enterprises.
In order to understand what kind of problems graduate students have encountered when looking for a job, I interviewed my friends in the laboratory, and they also shared methods to solve the problem. Today, two main examples are representative.
▶Questions:
1.It is difficult to organize and collect effective information of the enterprise. Where to find it and how to extract the effective information. (Osaka Prefectural University, Huang)
2.The level of Japanese is not sufficient. It takes a lot of time to write the Entry Sheet, and it is hard for me to accurately grasp the interviewer's questions during the interview. (Ritsumeikan University, Bai)
▶Solutions: 
1.The International students could pay attention to the core business characteristics and latest trends of the enterprise (such as   information related to China) and the mid- and long-term business goals. Combining their features, they could summarize their own unique answers.
2.In Japan, the written test is basically several forms such as SPI, and oral examinations are mostly about motivation and corporate awareness. Once you have the target, buy the latest textbooks corresponding to the latest question bank, and then practice more SPI questions, then think about your motivation, and develop a few standard answers to frequently asked questions. (Pros and cons, a failed experience e.g.) Before the interview, be sure to practice Japanese expressions of honorifics and modesty, and try to express your ideas naturally and smoothly during the interview.
Under this pandemic, the employment environment is not active yet, but in the long run, the situation will be definitely recovered! Good luck!