Dress Attire During Remote Work (在宅ワーク中の服装)
WORK'IN JAPAN
24.08.2022
With remote work and hybrid work
(a
mix of remote work and commuting to the office) becoming the norm, have you figured out the appropriate dress attire for days you're working from home? While jumping in front of the computer in your pajamas or loungewear would be nice, you might need to wear something a little more formal.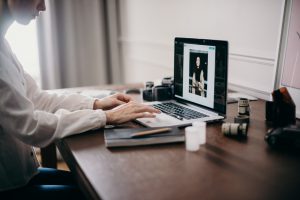 Online meetings with clients or team members create a relaxed atmosphere, so dress appropriately to avoid offending your peers. Even if you don't have meetings scheduled or can opt to turn off the camera, it's good to change into work wear so you can make that mental adjustment between on and off work hours. 
Here are some ideas and suggestions to get the work-from-home uniform right. 
Wear comfortable clothing
Regardless of whether you choose to wear a suit or dress in relaxed attire, comfortable clothing that's put together is vital. With the lack of commute time and moving around the office, you might be sedentary for most of the day. Make sure to wear comfortable clothing that looks good on camera. 
Comfortable clothing also includes weather and seasonally appropriate clothing. This includes lighter and cooler clothing during the hot months and warmer layers during the cold months. 
Unless your company mandates it, you can ditch the tie
There's no need to wear a necktie at home unless your company requires it. Instead, opt for a polo shirt or a dress shirt, which falls under
"business
casual attire" but won't restrict your neck area. 
Avoid clothes that are too casual or flashy
This includes casual t-shirts, skin-revealing tops, and shirts with flashy prints or logos, which may distract others. While wearing brightly-colored clothing makes your overall appearance brighter, ensure you still have that professional look. 
For a formal look, wear a blazer
A blazer or less structured suit jacket will elevate any look and make you look prepared and professional. 
Don't forget to check your hair and face
Lastly, don't neglect personal hygiene and maintenance, even if the people you'll be talking to are virtual. Check your hair and face. If you like wearing makeup, bright-colored lipstick or blush can add color to your face. 
Want to learn more about business attire in Japan? Check out this article.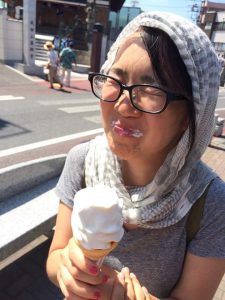 Kayoko Hirata Paku
Kayoko Hirata Paku is a food writer, translator, and bagel person. Growing up in Japan and the U.S., she currently resides in Tokyo with her peanut butter addicted husband, a very hungry baby, and many half-dead plants.
Read previous articles by the writer